De-Lurking Day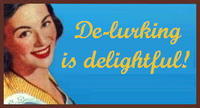 January 5th is
De-lurking day! Or so I've been told, by Liz of This Full House, and which was established by Sheryl of Papernakin.
So talk to me! Tell me whats up with life. Rant or rave. Just ramble on about whatever. Say Hello! Howdy!!! Hi!!! Shalom!!!
I can't offer you the same incentive as Sheryl or Liz can, but I can offer you my gratitude! Besides, you know there's been something you've been dying to tell me but you just couldn't find the right place. Well now you have!!!
Posted by Rachel Ann at January 5, 2005 08:47 PM